Being recognised as a Mompreneur in India is difficult as there are many talents pooled in to identify each one out. On this International Women's Day, have a look at the Mompreneurs of Chennai who are rocking both their work and personal lives.
Sarala Bastian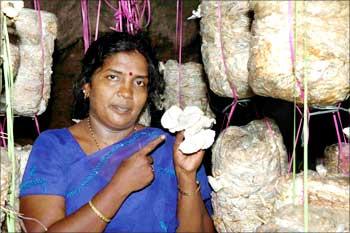 Sarala Bastian, at 17, started her own mushroom yard with just Rs. 15000 which her father gave as an initial investment. Now, she is a successful entrepreneur in this field which has not been explored by many. She is 32 and running the business successfully.
Mahalakshmi Saravanan
Founder of women entrepreneurs India and it is an innovative platform where all mom entrepreneurs can achieve their dream and this is the place which will help you be independent and be goal oriented.
Dr Mariazeena Johnson
Dr Mariazeena Johnson is the Managing Director of Sathyabama University, Chennai. Under the expert guidance of her father and whole-hearted support of her husband, Dr.Johnson also spearheads the foundation which aims at helping the underprivileged.
Veena Kumaravel
Veena is the founder of Naturals Salon, stepped into beauty industry and carving internal and external beauty of the lives of people who are young at hearts.
Ranjini Manian
Ranjini Manian is an Entrepreneur, Author, Speaker and Founder of Global Adjustments which promotes life skills/education/emotional intelligence building of Indian women and youth to Link, Learn, Leave a legacy.
Saras Bhaskar
Saras Bhaskar is the founder of Professional Counselling Services, started with an objective to enable positive changes in the lives of people. Her vision to empower counselling professionals in the field of psychology gave birth to Chennai Counselors Foundation.
Vandini Gokul Ravindran
Vandini is the founder of Janvi Adornments and she started off as a jewellery business at home and now she has over 20000 clients all over the world.
Rajalakshmi Abhilash
Rajalakshmi is the founder of Dolce Olivia. She undertakes customised cake orders for all occasions and makes your day the most memorable one.
Photo Courtesy: Squarespace